Status:
A1: Open
A2: Open
B1: Open
B2: Open
C1: Open
C2: Open
D1: Open
D2: Open
E1: Open
E2: Open
Refer to
Overworld Design
for a global overview of Raining Chain overworld.
We are currently looking for someone to design one or multiple maps part of the Eastern Valley region following the plan made by chuy89.
Check
Map Creation Tutorial
for info about creating maps.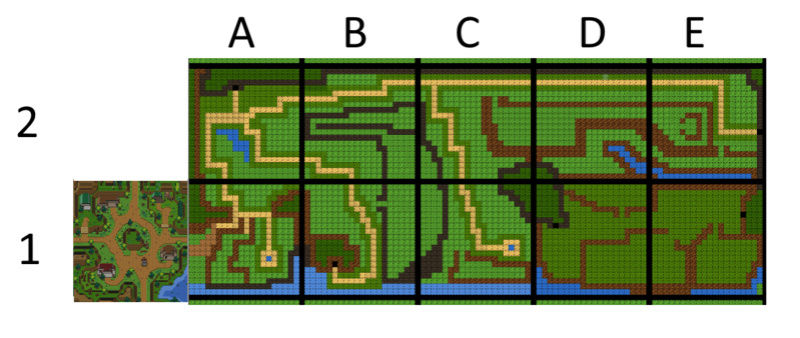 Ok here is the first map: A1.
I work atm on A2 also B1+ B2
Map
Great. It does feel like a valley.
One thing though, it must match with the existing town.
Here's the town file:
http://puu.sh/sxJ75.tmx
Did we don't move the maps one to the right side because it won't fit with the nothern mountain?
Yeah, you're right. I guess this is how the overworld map looks like right now. The red square is the map you just submitted.
Spoiler:
Ok I build now the transition map from town I finished the layout:
if you like to doublecheck if it fits to the 3 maps around
map
Ok the missing map is done here is the
map
.
Amazing as usual

Looks great

Keep them coming!

---
Permissions in this forum:
You
cannot
reply to topics in this forum